LONDON, UK – The UK's love affair with the films by Antigua & Barbuda's number one filmmaking duo continues.
On Saturday, July 25, 2015, The Sweetest Mango, which was the first feature directed and produced by Howard and Mitzi Allen of HAMAFilms was screened at the London #CaribbeanSummerSeason of Films.
Released in 2001, the romantic comedy is based on how the filmmakers met and fell in love. Following the screening at London's Bernie Grant Arts Centre, the audience got a further treat with a Q&A discussion with Howard and Mitzi, along with UK actress Julie Hewlett (Eastenders, The Bill) live by video link from Antigua.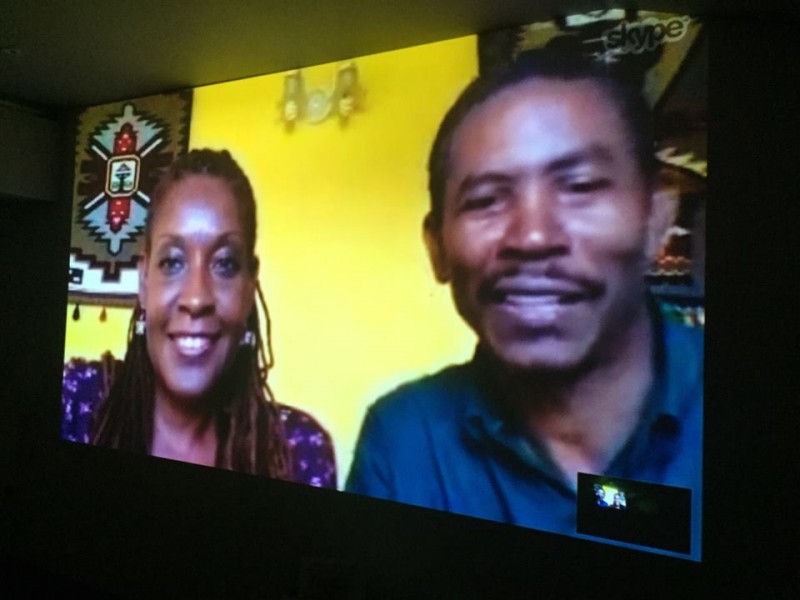 The film, which is now archived in the TIFF Bell Lightbox Film Reference Library, tells the story of Lovelyanne 'Luv" Davies, who returns from Canada to Antigua and her struggles to adjust to life on a small island. It follows her professional turmoil and personal drama, including being caught in an unexpected love triangle.
In a discussion that was both entertaining and informative, Mitzi, Howard and Julie spoke about the professional and financial challenges of filmmaking in Antigua. They have addressed it by not building in Hollywood-style costs but by minimizing overheads and ensuring that monetary returns can be met through local businesses and audiences.
They also spoke about how awareness is growing in that film and television are important exporters of culture. Discussions also touched on the varying outcomes and experiences that people have when they travel "back home" for love; the expectations on women to "marry up"; how some traditions hold back women's independence; and how the diaspora is treated when they return and the struggle to find the balance between being modern efficient societies and retaining a sense of "Caribbeanness".
Ron Belgrave of Sankofa TV shared with Mitzi following the Q&A "It was clear, from the way the audience engaged, that what you (and Howard) achieved with "Mango" was not only significant in terms of setting a platform for a new quality of filmmaking in Antigua but has helped in a broader social debate in helping the Caribbean to pursue its rightful place in the 21st Century.
"In addition – and this is again clear and naturally/effortlessly derived from your relationship with Howard – one aspect that people really like is the supportive and positive ambience between man and woman in your films. In a way, some might say that is to be expected in a romantic film like Sweetest Mango but where it often has more impact is where it is not necessarily expected (such as in a supernatural thriller like The Skin). The audience at the BFMIFF screening of The Skin on 5 July commented particularly on how they appreciated the way the couple interacted with each other in that film."
Howard and Mitzi's next project is a drama called "Deep Blue" about a marine biologist that helps a fishing village threatened by environmental/climate change (as a topical issue affecting Antigua & Barbuda). The film is expected to be released in summer 2016.
Julie also stars in "Deep Blue" and frequently travels back to the UK where she is available for British-based acting projects.
The #CaribbeanSummerSeason for 2015 continues every Saturday evening (7pm) until Carnival weekend at the Bernie Grant Arts Centre. Details at www.sankofa-tv.co.uk